| | | |
| --- | --- | --- |
| Alf Guldberg, President | | Yves Guérard, Secretary General |
| Jean-Louis Massé, President-Elect | | Luis Huerta, Immediate Past President |
Decisions taken at June 16, 2005 Council Meeting
Seven actuarial practice guidelines adopted for International Financial Reporting Standards At its meeting on June 16, the Council adopted seven actuarial practice guidelines. All actuaries who perform work in an international environment should be aware that these guidelines exist and that they apply to them. Member associations are asked to communicate this information to their individual members. The topics covered by these guidelines are: Actuarial Practice, Measurement, Current Estimates, Classification of Contracts, Liability Adequacy Testing, Discretionary Participation Features and Changes in Accounting Policies. The standards are currently being finalized and will be available on the IAA Web site in the next couple of weeks. A special announcement will be sent at that time.
Full Member Association dues for 2006 set at $12.50 CAD based on the aggregate number of fully qualified actuaries
Adoption of audited financial statements at December 31, 2004 and revised budget for 2005 Both documents, as approved, are available online.
Admission of New Full and Associate Member Associations Council admitted as Full Member associations the Hrvatsko Aktuarsko Drustvo (Croatian Actuarial Association) and the Pakistan Society of Actuaries. The Asociatia Romana de Actuariat (Romanian Actuarial Association) was admitted as an Associate Member. Congratulations and Welcome!
Appointments and Reappointments to IAA Committees and Subcommittees Consult the full list of appointments and reappointments to IAA Committees and Subcommittees online.
The Nominations Committee announced to Council its intent to recommend at the Council meeting on November 19, 2005 the election of Peter Clark of the United Kingdom as President-Elect for the year 2006
Read this article to find out what events are being planned.
That the IAA has six Sections whose work extends beyond research and scientific into practice specific? Find out how you can become involved by navigating their respective Web sites that form part of the IAA Web site (www.actuaries.org).
That the focus of the International Congresses of Actuaries has evolved? They now include sessions covering a wide range of topics of actuarial practice. Experience it for yourself – come to Paris in 2006! Read more about the Congress in the planned events section.
Do you know that the IAA Web site gives you access to a Virtual Global Actuarial Library? The icon labeled "Virtual Global Actuarial Library" launches a search into a seamless universe comprising over 180,000 documents from over 70 sites of interest to actuaries such as the libraries of actuarial associations, a number of academic libraries, those of the OECD, the World Bank, WHO, ILO, etc. As you search only within a selected group of sites, this drastically reduces the number of non relevant answers. You can further narrow the search universe by selecting in or out specific domains or libraries by type, language or geographic areas. Within the whole universe or the part you selected, your search proceeds automatically from a single click; you do not need to write down the addresses one by one, assuming you could think of them. You can obtain the definition of each category by clicking on the name of the category.
When you find an interesting document, an icon will be available to allow you to translate it into one of the 8 languages supported by our customized Automatic Translation tool, which is another facility that can also be used independently of the Library search. The languages are Chinese, English, French, German, Japanese, Spanish and Russian. Do not expect polished translations. We are working on improving the results by adding terms and expressions in a custom actuarial dictionary, but it is still a work in progress. However, it will give you the gist of the document or message and will allow you to decide if you wish to have it professionally translated.
The search tool itself is quite flexible in helping you define your search algorithm through a combination of AND, OR, NOT, NEAR, etc. You can build detailed search queries by using the "Advanced Search" option and get detailed instructions by clicking on "Help". Of course you can use the automatic translator to insert key words in other languages to widen your search algorithm.
We have assembled this Virtual Global Actuarial Library to facilitate access to our core body of actuarial knowledge and to professional information of interest to actuaries. We believe this search tool is a very efficient way of sharing knowledge within the global actuarial profession and of improving the quality of actuarial services around the world. Although we have publicized this library on numerous occasions, we note that the rate of utilization remains limited. Anecdotical evidence indicates that many members are not aware of the existence of this tool or are not aware that, as a full member of a Full member association of the IAA, they are members of the IAA and have free access to all these services.
As use of the Search tool increases, we expect to receive suggestions for the inclusion of target sites that we have not yet integrated into the database. If your site is not included in the Virtual Global Actuarial Library or if you know of other useful sites, please contact Christian Levac at christian.levac@actuaries.org with any suggestion or comment on the use of the tool itself.
Update on the Work of IAA Committees and Sections
Find out what is happening within the IAA committees and sections.
Have you got yours yet? A Global Framework for Insurer Solvency Assessment: A Research Report by the IAA's Insurer Solvency Assessment Working Party – Less than 75 copies left - Order Your Copy Today – CLICK HERE
---
IAA Meetings in Rome break all records!
The recent IAA Council and Committee meetings held in Rome attracted more delegates than could have been imagined! In total, there were 208 delegates and 73 accompanying persons representing 33 countries. Representation by membership category was as follows: 39 of 50 Full Member associations, one of 24 Association Member associations, 2 of 3 Institutional Members and all six sections. Total voting rights represented, including proxies and ballots, totalled 85.34%!
| | | |
| --- | --- | --- |
| | | The IAA expresses its sincere gratitude to our Italian hosts, the Istituto Italiano degli Attuari, who managed to secure the most impressive location in Rome to treat their guests to a wonderful dinner with one of the most beautiful views of Rome! See for yourself! |
| | | |
| Carla Angela, President of the Istituto Italiano degli Attuari, receives blown glass replica of the IAA globe from President Alf Guldberg. | | |
ICA 2006 in Paris and Bursaries
The Council was informed of generous donations to the Congress Bursary Fund of the IAA made by the ASTIN Section and the IACA Section, in the amount of $40,000 and $15,000 respectively; the AFIR/ERM section will decide on its contribution at its next meeting this coming September. Donations are welcome from associations, individual actuaries, companies or institutions and would help the Member Services Committee to sponsor more actuaries from developing economies with the potential of becoming leaders in the global profession. The next opportunities will be in 2010 in South Africa and in 2014 in the United States.
The bursary application form is available on the website at www.actuaries.org/Congress_Bursary_EN.cfm. Early registrants to the Paris Congress can enjoy a reduced fee until July 31, 2005 by connecting to www.ica2006.com.
Reports by the President and the Secretary General
IAA Official Representation Activities
To give you a feel for the level of activity within the IAA leadership, the IAA was officially represented at the following events recently:
By Alf Guldberg at the Conference of the Institute of Chartered Accountants in Brussels in April
By Luis Huerta at the World Bank Contractual Savings Conference in Washington in April
By Alf Guldberg at the Deutsche Aktuarvereinigung e. V. (DAV) annual meeting in Berlin in April
By Alf Guldberg at the Institute of Actuaries of Australia Biennial Convention in Cairns in May
By Yves Guérard at the International Pensions Forum in Taipei in May
By Jim MacGinnitie, Steve Handler, Chris Daykin, Norm Crowder and Nicole Séguin at a meeting with the World Bank and other international organizations in Washington in June
By Alf Guldberg at the Association Suisse des Actuaires (Switzerland) centenary celebrations in Basel in June
Recognition of Outgoing Chairpersons
Council awarded a plaque to recognize the contribution of the following past Committee Chairpersons:
Cecil Bykerk, Chairperson, Education Committee, 1998-2004 (below left)
Norbert Heinen, Accreditation, 2000-2004
Jean-Louis Massé, Professionalism, 2002-2004 (below right)
Stuart Wason, Supranational Relations, 2000-2004

(Unfortunately Norbert and Stuart could not be present at the Council meeting. Stuart received his plaque earlier in the week at the Nominations Committee meeting and Norbert will receive his at a later date.)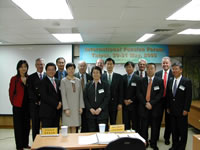 International Pensions Forum in Taipei
IAA Secretary General Yves Guérard addressed the International Pensions Forum organized jointly by the Actuarial Institute of the Republic of China (AIRC) based in Taipei and the Taiwan Insurance Institute, and sponsored by the IAA Fund. Details are available online.

Presidents' Forum held in conjunction with IAA meetings For the first time, the Presidents' Forum was held in conjunction with the IAA meetings. The meeting took place in Rome and attracted presidential representation from close to 40 of the 50 Full Member Associations of the IAA. The meeting was a success and the next one is planned for November 20, 2005 in Rio de Janeiro, Brazil.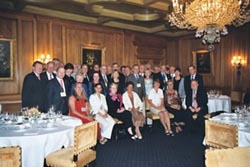 Former Council Members of the IAA pre-1998 reunite in Brussels Over 30 members of the IAA Council prior to the restructure in 1998 reunited in Brussels on June 11 for a commemorative dinner at the traditional La Maison du Cygne. The event had been initiated by Jean Berthon (France), Carla Angela (Italy) and the late Catherine Prime (Australia). André Lamens and Willy Lenearts, President and Secretary General of the IAA for many years up until the restructure in 1998, joined current President and Secretary General, Alf Guldberg and Yves Guérard, in reuniting with their former colleagues for an evening of camaraderie and reminiscing.
(left) Malcolm Murray ensured that all traditions were followed by leading the group into a rendition of "Sunshine Mountain"!
IAA Events you won't want to miss
ASTIN Colloquium
September 5-7, 2005 – Zurich, Switzerland
AFIR/ERM Colloquium
September 7-9, 2005 – Zurich, Switzerland
Council and Committee Meetings and Presidents' Forum
November 17-20, 2005 – Rio de Janeiro, Brazil

Council and Committee Meetings and Presidents' Forum
May 24 to 28, 2006 – Paris, France

28th International Congress of Actuaries
May 28 – June 2, 2006 – Paris, France

Registration is now open!

Take advantage of a lower fee until July 31, 2005
Long Range Planning
The International Actuarial Events Calendar is the perfect tool for your long range planning. Visit it often through the link on the IAA's home page. Member associations are encouraged to post their events in the calendar to make the tool as useful as possible. If you have misplaced your association's login and password, send an email to secretariat@actuaries.org.
Other Events
AUGUST 8-12: Dependent risks in actuarial science and finance: The 18th International Summer School 2005 of the Swiss Association of Actuaries will be held August 8-12, 2005 at the University of Lausanne, Switzerland. For more information and online pre-registration, see the web site: www.saa-iss.ch. Deadline for registration is March 31, 2005.
AUGUST 25 TO SEPTEMBER 2: Second Brazilian Conference on Statistical Modeling in Insurance and Finance: Ubatuba, São Paulo from August 25 to September 2, 2005. The conference encourages the submission of original research papers, work-in-progress reports, future research proposals, practical problems expecting solution and students papers. Full details on this scientific conference are available at : www.ime.usp.br/~ubatuba/2nd/.
OCTOBER 6-8: Workshop on New Mathematical Methods in Risk Theory in honour of Hans Bühlmann – Florence, Italy
We renew the invitation to contribute with the submission of papers to the Workshop "New Mathematical Methods in Risk Theory", which will take place in Florence on 6-8 October 2005, to celebrate Hans Bühlmann's 75th anniversary.
Titles and abstracts of contributed papers can be submitted by the on-line procedure activated in the Workshop web page, www.riskworkshop.it
Here is a list of useful information (for details, please see the above mentioned site).
Extended deadline for abstract submission: the new deadline is 30 June, 2005
Registration: you can register on-line at the Workshop web page. The registration fee (100 euros if you register before 15 September 2005) covers: Workshop information/documentation (including the abstracts CD-ROM); Cofee breaks; Welcome reception (October 6); Workshop dinner (October 7).
Accommodation: on the workshop site you can find a list of suggested hotels, both in the City Center and in the Workshop Venue area, which are willing to practice discounts to the Workshop participants. Our strong recommendation is to book a hotel as soon as possible, since in Florence it is always high-season!
We look forward to meet you in Florence
Marcello Galeotti, Cecilia Mancini
(for the Organizing Committee)
Research Conference - New Developments in the Quantitative Modelling of Insurance and Financial Risk
5 August 2005 - Four Seasons Hotel, Sydney, Australia
The Institute of Actuaries of Australia will present a one day state of the art Research Conference followed by Dinner to recognise and honour the research contributions to actuarial science by Dr Greg Taylor.
The Conference will feature a number of international and Australian speakers who are recognised leaders in their field. The program will include demonstrations of how research can be practically applied to improve risk management and modelling for a business in financial and insurance risk.
Some of key issues to be discussed include:
Loss reserving and forecasting
Risk margins
Correlation and dependence between lines of business and diversification
Risk dependence and risk aggregation
More effective reinsurance arrangements
Pricing and dynamic protection for equity return guarantees
Capital allocation and risk management
For more information about the Conference and how to register, go to www.actuaries.asn.au and click on Events
Institute of Actuaries of Australia - XVth General Insurance Seminar,
16 - 19 October 2005 - Sheraton Mirage Hotel, Port Douglas, Australia
This year's theme for Australia's biennial General Insurance seminar is appropriately titled Evolution of the Industry and will feature leading speakers such as Dr John Laker, Chairman of the Australian Prudential Regulatory Authority (APRA) and and Tony Coleman, Chief Risk Officer and Chief Actuary at IAG.
The Institute received an overwhelming response to the call for papers with over fifty expressions of interest in presenting papers at the seminar. Topics to be discussed include risk margins, pricing, catastrophes, claims and reserving, risk based capital, accounting standards and issues, the insurance cycle and the market, tort reform, premium liabilities and latent claims.
The Seminar will bring together actuaries, industry leaders and other professionals in the general insurance industry to discuss contemporary issues in the Australian and International environments. Registration details will be available shortly at www.actuaries.asn.au
2005 Part III Education Program
For semester one there were 425 students enrolled for exams in the nine subjects offered as part of the Part III Education Program. Over 90 members assisted the Institute with marking assignments and another 90 were responsible for marking exams, with some members being involved in both of these activities.
Part III students were asked to complete a survey of their semester one experiences directly after the examinations were completed. We received 158 responses to the survey from the 425 students enrolled in semester one.
The results of the survey were very constructive. The clear majority of students stated that the aims and objectives of the course were clearly presented, the course was relevant to their careers and that they felt more confident speaking to their peers about the subject area after the course. The vast majority also commented that the assignments were relevant, enabled them to build their knowledge of the subject and provided an appropriate level of challenge. While the majority felt that the examination tested their knowledge of the course material and readings.
Less encouraging though was the fact that some respondents would have liked better quality course material and more adequate feedback on assignments. Improving these areas and undertaking a thorough assessment of the allocation of resources for the various components of the Education Program will be the focus of our future development.
We will be conducting a new compulsory course in the second semester. The Commercial Actuarial Practice course will comprise a six day residential program and will take a case study approach which will focus on improving the ability of students to apply actuarial skills and approaches to a range of different business contexts and then effectively communicate the solutions to a wide audience. The course will be assessed by means of a full day case study assessment and a final examination.
The semester two enrolment period has begun with enrolments progressing well. We look forward to the launch of the Commercial Actuarial Practice course and a successful second semester program.
Update on the Work of IAA Committees and Sections
Click on the committee or section name to learn more about their activities.
Accreditation
Juan Carlos Padilla, Chairperson
Edward Robinson, Vice-Chairperson
Advice and Assistance
Stephen Handler, Chairperson
Ibrahim Muhanna, Vice-Chairperson
Audit and Finance
Curtis E. Huntington, Chairperson
Education
Carla Angela, Chairperson
Paul Grace, Vice-Chairperson
Mary Frances Miller, Vice-Chairperson
Financial Risks
David Kingston, Chairperson
Tony Coleman, Vice-Chairperson
Insurance Accounting
Sam Gutterman, Chairperson
Paul McCrossan, Vice-Chairperson
Francis Ruygt, Vice-Chairperson
Insurance Regulation
Jukka Rantala, Chairperson
David K. Sandberg, Vice-Chairperson
Member Services
Peter Clark, Chairperson
Pensions and Employee Benefits
Paul Thornton, Chairperson
Esko Kivisaari, Vice-Chairperson
Professionalism
Helen Martin, Chairperson
Simon Van Vuure, Vice-Chairperson
Masaaki Yoshimura, Vice-Chairperson
Social Security
Hillevi Mannonen, Chairperson
Robert L. Brown, Vice-Chairperson
Supranational Relations
Philippe Maeder, Chairperson
Graham Rogers, Vice-Chairperson
AFIR/ERM
Jean Berthon, Chairman
ASTIN
David G. Hartman, Chairman
AWB
Jean Berthon, Chairman
IAAHS
Howard J. Bolnick, Chairman
IACA
Adrian Waddingham, Chairman
Aktuarvereinigung Österreichs (Austria)
At its general meeting in May 2005 the Aktuarvereinigung Österreichs (AVÖ) the (Austrian Actuarial Association) elected the following members of the managing committee:
President : Dr. Klaus WEGENKITTL (president@avoe.at)
Vice president : Dir. Helmut HOLZER
Vice president : Prof. Dr. Walter SCHACHERMAYER
Treasurer : Mag. Christoph KRISCHANITZ (kassier@avoe.at)
Clerk : Dipl.-Ing. Manfred RAPF (schriftfuehrer@avoe.at)
General secretary : Dipl.-Ing. Peter PRIELER (generalsekretaer@avoe.at)
Office :
Aktuarvereinigung Österreichs
AVÖ Sekretariat
Postfach 1
A-7002 Eisenstadt
Austria
Email : sekretariat@avoe.at
Tel.: +43 / 2682 / 72794
FAX: +43 / 2682 / 72794-0
Institute of Actuaries (United Kingdom)
The Actuarial Profession
Announcing the launch of a new actuarial journal
The Faculty of Actuaries and the Institute of Actuaries are launching a new international actuarial research journal in 2006. The Annals of Actuarial Science will publish research papers in any area of actuarial science. It will be published twice yearly; in the Spring and the Autumn. All papers will be subject to a rigorous process of peer-review. The UK actuarial profession will continue to publish the British Actuarial Journal which will contain the papers presented to sessional meetings of the Faculty and Institute along with transcripts of the discussions and debates. The Editor of the Annals of Actuarial Science is Professor Mary Hardy PhD, FIA, FSA (University of Waterloo, Canada) and the Associate Editors are:
Anthony Asher, F.I.A., F.I.A.A.
Philip Booth, F.I.A.
Andrew Cairns, Ph.D, F.F.A.
David Dickson, Ph.D., F.I.A.A., F.F.A.
David Forfar, F.F.A.
Lane Hughston, D.Phil.
Malcolm Kemp, F.I.A.
Angus Macdonald, Ph.D, F.F.A.
David Muiry, M.B., B.S., F.I.A.
Ragnar Norberg, Ph.D, Hon. F.I.A.
David Paul, F.F.A.
Michael Shelley, F.I.A.
Peter Tompkins, F.I.A.
Mark Trayhorn, F.I.A.
Richard Verrall, Ph.D.,Hon. F.I.A.
Howard Waters, D.Phil., F.I.A., F.F.A.
The Editor invites submissions in any area of actuarial science or practice. In particular, we are interested in papers that are applied in nature. The Annals of Actuarial Science welcomes papers in life insurance, general/property and casualty insurance, pensions, finance, health insurance, insurance economics and econometrics. Original research, review papers and case studies will all be considered for publication.
Authors are invited to submit papers for publication in the Annals of Actuarial Science directly to the Editor at Statistics and Actuarial Science, University of Waterloo, Waterloo, ON N2L 3G1, Canada or at mrhardy@uwaterloo.ca.
For more information (including instructions to authors) visit the Actuarial Profession's Website at www.actuaries.org.uk
Casualty Actuarial Society (United States)
Report on Actuarial Credibility Available
In light of recent challenges about the role of the casualty actuarial profession in the United States, the Casualty Actuarial Society Board of Directors embarked on a critical examination of current practice. The Board devoted a half-day of a 2004 meeting to exploring potential underlying causes for the perceived credibility gap and to considering steps that might be taken by the profession to enhance the public's understanding of statements of actuarial opinion and to maintain confidence in the actuarial profession.
Subsequently, the Board appointed the Task Force on Actuarial Credibility and charged the Task Force to refine the board's initial observations and develop detailed work plans for suggestions that were considered to have potential for high impact.
The Task Force Report was presented to the CAS Board in May 2005 and is now available on the CAS Web Site for all interested parties <http://www.casact.org/members/reports/tfacrpt.htm>. The Board accepted the Report and directed the CAS Executive Council to consider the Task Force's recommendations and implement them as appropriate.
With the release of the Report, the Board acknowledged that although the recommendations have a U.S. emphasis they also have broader application, and therefore, the Report was distributed to other actuarial organizations around the world. The Board also acknowledged that the recommendations are only first steps, and that additional monitoring will be required for potential further actions.
Comments on the report are welcome, and can be sent to office@casact.org.
Call for Papers on Reserving Topics
The complex issues that are challenging the general insurance industry continue to impact the actuarial profession and the reserving process within the profession. Actuarial expertise is needed to deal with changing and unique exposures as well as to evaluate the adequacy of current methods. As new and complex issues evolve, the need for actuaries to communicate their opinions in an effective manner to various audiences is crucial.
The CAS Committee on Reserves is again pleased to extend a call for papers on reserving topics. The complete announcement is posted in the Research section of the CAS Web Site at <http://www.casact.org/research/rsrvcall06.htm>.
Proposals are due by July 8, 2005 to mboa@casact.org. Authors of accepted papers may be invited to present their work at the 2006 Casualty Loss Reserve Seminar scheduled for September 11-12, 2006 in Atlanta, Georgia, United States. Accepted papers may be published in the CAS Forum and will be available on the CAS Web Site prior to the Seminar.
A prize fund of $2,500 is available for the outstanding papers submitted in response to the call. Both CAS members and non-members are invited to submit proposals, and papers are not limited to only the suggested topics listed in the announcement.
The CAS Committee on Reserves looks forward to receiving your proposals.