About Cancun
Cancun is located in the Yucatan Peninsula, in the Mexican State of Quintana Roo.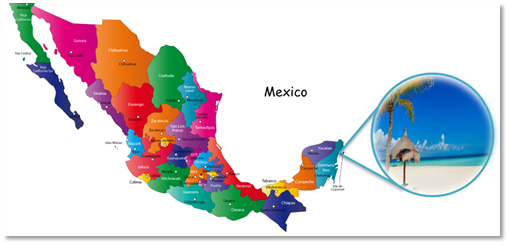 Four decades ago, this natural resort was a deserted and virtually unknown island. It is bordered to the north by Bahìa de Mujeres, to the east by the Caribbean Sea and to the west by the Nichupte Lagoon. Cancun, whose shape resembles a number "7", is joined to the mainland by two bridges: the Nichupte Channel and the Nizuc channel, which joins Punta Nizuc to the mainland, heading to the airport and the Riviera Maya.
From 1989 to the date, Cancun has become the most dynamic city of Mexico. It contributes to one of the highest percentages of tourist currency entering the country and it participates substantially in the gross domestic product (GDP) of the state of Quintana Roo. Currently, its permanent population is over 500,000 inhabitants. Due to its natural beauty and paradisiacal landscapes, to the day, Cancun is the most important tourism center of Mexico and the most prosperous city in the Yucatan Peninsula, beating Bahamas and Puerto Rico as a tourist destination in the Caribbean.

LANGUAGE

The official language in Cancun is Spanish, although the tourist sector speaks mainly English, French, Italian and German. Part of the local indigenous population still speak the Mayan language.
WEATHER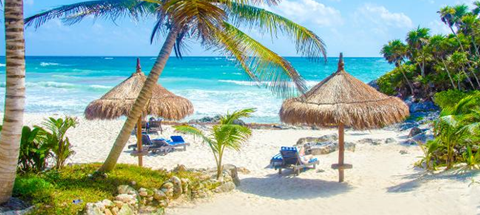 Cancun is well known for its tropical climate that enhances it with magnificent species in the beaches and in the island. The average temperature is 26° C (79° F). In the summer (from April to October), the maximum temperature reaches 36° C (97° F). In the winter (from November to March), the temperature drops to 18° C (64° F). In Cancun the sun shines 253 days a year.

TAXIS
In Cancun you can get a taxi almost everywhere. Fees vary depending on the route so it is better to agree on a price before starting the journey. At the reception of most hotels you can ask for a taxi and its fees. Also, the airport has its own system of taxis.
HEALTH
As we consider this to be important if necessary, we share the following information with you.
Major Hospitals
Hospital Americano. Tel.: +52 (998) 884 6133
AMAT hospital. Tel.: +52 (998) 887 4422
Hospiten. Tel.: +52 (998) 881 3700
Galenia. Tel.: +52 (998) 891 5200
Emergency Numbers
Emergencies: 066
Fire: +52 (998) 884 1202/884 9480
Police: +52 (998) 884 1913/885 2277
Red Cross: +52 (998) 884 1616 Emergency: 065
Medications
If traveling with medication, you should bring the original doctor's prescription. To buy any antibiotic prescription is required.
ENTER THE COUNTRY - VISA

To enter the country, you must have a valid passport.
VISA is not needed for citizens of the following countries:
Andorra, Argentina, Australia, Austria, Belgium, Canada, Chile, Cyprus, South Korea, Costa Rica, Denmark, Slovakia, Slovenia, Spain, United States, Estonia, Finland, France, Greece, Hong Kong, Hungary , Iceland, Ireland, Israel, Italy, Japan, Latvia, Liechtenstein, Lithuania, Luxembourg, Malta, Monaco, Norway, New Zealand, Netherlands, Poland, Portugal, United Kingdom, Czech Republic, San Marino, Singapore, Sweden, Switzerland, Uruguay, Venezuela.
Anyway, it is recommended to consult in each case whether VISA is required and if so, what is the process to obtain it in time.
In the Entry to the Country form it is important to notice their participation in the Colloquium to get the benefit of VAT discount on lodging.
For more information, please visit: http://serviciosconsulares.sre.gob.mx
AIRPORT
Cancun International Airport operates daily with national and international arrivals and departures. It is the second busiest airport in Mexico in terms of traffic volume and is located 16 km from the city.

CURRENCY
Exchange - Credit Cards - Banks
The official currency is the Mexican peso. There are ATMs and currency exchange offices in the shopping malls of Cancun's Hotel Zone. Also, the US dollar is generally accepted. In most stores, you can use credit cards, such as American Express, Visa and MasterCard. Banks are open from 9 a.m. to 4 p.m.

TIPS
Tips for services are about from 10% to 15% and one or two dollars per suitcase loaded. It is suggested to review the bill before tipping, as it may already be included.

USEFUL DATA
Communication
To make an international call from Mexico:
Access code (001 for the US and Canada, 00 for the rest of the world)
+ country code
+ phone number

Electricity
The electric current is 110 volts. Usually hotels provide adapters for 220 volt appliances. There exist two types of plugs in Mexico, type A and type B. Type A are typical North American plugs, with two blades. Type B have two blades and a third for the land, which is cylindrical.

ACTIVITIES IN CANCUN
Cancun offers 23 km of beaches of fine white sand ideal for windsurfing, kite surfing and parasail. It also has the second largest coral reef in the world: the Great Mesoamerican Reef, which makes it a perfect destination for scuba diving.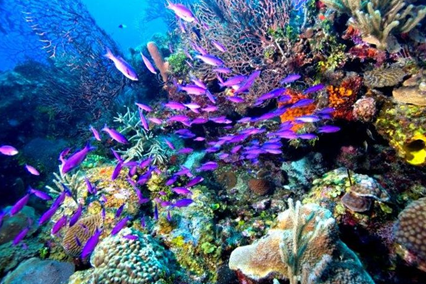 ADVENTURE TOURISM
You can enjoy one of the longest zip riders in Latin America, mountain biking, and driving jeeps to cross the jungle or swimming in cenotes. There are numerous options for adventure tourism and ecotourism in Cancun and nearby areas suitable for the whole family.

WATERSPORTS
For water sports enthusiasts, Cancun offers diving, snorkeling and fishing first class. It is even possible to rent a sailboat with crew and equipment.

GOLF
Besides being located in places of great beauty, the golf fields in Cancun and the Riviera Maya are frequently required for tournaments and professional players.
RESTAURANTS
Cancun's cuisine offers a wide variety of styles, from classic Mexican restaurants in the downtown to fancy restaurants located around the Nichupte Lagoon. The cuisine can please all tastes and fit all budgets. For more information, please visit: http://cancun.travel/es/actividades/restaurantes/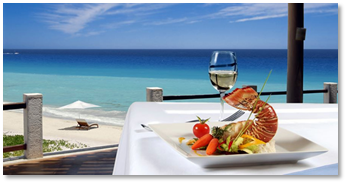 NIGHTLIFE
Cancun is well known for its nightlife. The Hotel Zone is highlighted for having some of the best nightclubs in the world where you can hear all kind of Latin and other rhythms, like salsa, disco and R&B. There are also bars offering live music.

SHOPPING
Cancun has a wide variety of sites for shopping. From the Mercado 28 -a fair of handicrafts- to modern Plaza Las Americas - a mall with designer shops- Cancun offers an extraordinary experience with over 250 shops and boutiques, some world-renowned. La Isla Shopping Village is an elegant shopping paradise located on the banks of the Nichupte Lagoon, in the hotel zone of Cancun. Kukulcan Plaza and Luxury Avenue are adjacent shopping centers located in the Hotel Zone.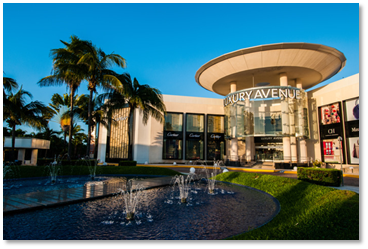 Market 28
This huge craft center is located in the heart of the city, where you can buy souvenirs, Mexican handicrafts and silver jewelry. Next to this market is Plaza Bonita, built to resemble a small Mexican town with colorful architecture and shops offering local crafts and art pieces of good quality.
TOURISTIC SITES
Puerto Morelos
This pleasant and quiet fishing village is just 35 kilometers from Cancun. Bohemian and relaxed atmosphere attracts people from all around the world, many of which have decided to make this site their home. The coast is part of the National Marine Park, which makes it ideal for diving and snorkeling. Also nearby you can find La Ruta de los Cenotes, water tanks considered natural wonders that feed streams and underground rivers located into the Yucatan Peninsula.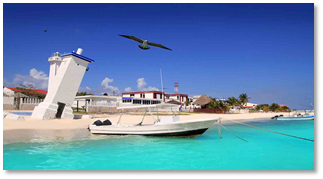 Isla Mujeres
It is located just minutes away from Cancun and is famous for its beautiful beaches. It offers incredible opportunities for snorkeling at Garrafon, a national park, home to a wonderful reef and a variety of species.
Contoy Island
It is located 30 km north of Isla Mujeres and it is considered the most important nesting site for seabirds in the Mexican Caribbean, with more than 150 species.

Holbox Island
It is separated from the coast of Mexico by a shallow lagoon which provides shelter to thousands of flamingos, turtles, pelicans and other exotic birds. This island is famous for whale shark sightings.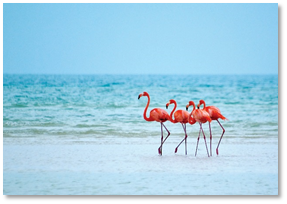 THE MAYAN CULTURE
The present culture in Cancun is its maximum appeal. An aura of mystery and majesty still lingers in the Mayan archaeological sites such as Chichen Itzá, Tulum and Cobá, to mention a few. From Cancun you can easily access to these places by car, bus, or with an organized tour.

Archeological Sites
EL MECO: At 5 km from Cancun, this ancient Maya city was a strategic commercial enclave until the arrival of the Spaniards. The centerpiece of the archaeological site is the pyramid of 12.5 meters high, known as El Castillo.
EL REY: It is the most important archaeological site on the island of Cancun. Located in the hotel zone, between the sea and the lagoon, it consists of 47 structures related to religious and secular functions. Remains of mural paintings were found there.
YAMIL LU'UM: Yamil Lu'um means "rolling land" in the Mayan language. This temple is located at km 12 of Boulevard Kukulcan, on the beach, and can be accessed through the hotel zone.