Solvency Management in Life Insurance
Life Section Seminar
co-sponsored by the Asociación Mexicana de Actuarios (AMA)
Mexico City, Mexico — April 19, 2007
Solvency management has become one of the hottest topics within the insurance industry, not only for companies, but for most stakeholders in this market (authorities, rating agencies, clients, etc.). Among other reasons, bankruptcies – combined with the need for more efficient use of capital – reinforce the need to work towards a change in how solvency in the life insurance industry is managed.
Methods to determine realistic solvency requirements are needed. Methods aligned with current accounting trends that better reflect a company's specific situation. have been the key drivers in the efforts to review this topic.

Solvency Management will be the key subject of the Life Section Seminar to be held in Mexico City on April 19, 2007, at the Sheraton Centro Histórico Hotel. The event is co-sponsored by the Asociación Mexicana de Actuarios (AMA)
Since solvency involves many disciplines within the operation of an insurance company, the scientific program will give participants a complete view of the various implications and requirements around this theme. The program will incorporate not only actuarial issues, but the overall financial and regulatory perspective, as well as operational implications around solvency changes.
The program will leave you with a better understanding of the need for change in solvency requirements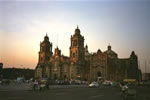 worldwide, as well as the views of different players as to where we are the industry is headed.
The different points of view and perspectives – that of companies, the market, regulators and consulting firms – will be reflected in each of the subjects to be discussed.
Our Scientific Program includes international industry leaders:
Topic

Speakers

Introduction

Malcolm Campbell, Secretary of the Life Section of the International Actuarial Association

Solvency in North America


Canada: Advanced methods in insurance capital requirements
Allan Brender
Special Advisor, Capital Division,
Office of the Superitendent of Financial Insitutions

United States
Dave Sandberg
Vice President for Life, American Academy of Actuaries

Solvency in Mexico
Lic. Manuel Aguilera Verduzco
President of the Insurance National Commission
Solvency in Europe: Solvency II
Steve Taylor-Gooby
Managing Director of Tillinghast-Towers Perrin, UK
Perspective of Companies

Francis Ruygt
Deputy Chief Insurance Risk Officer and Group Actuary, ING, Netherlands

Marco Hauck
Allianz

Society Of Actuaries
International Experience Study (IES)
William Horbatt
Co-Chair of SOA's IES Working Group
Capital Framework Best Practices
Andrew Smith
Partner, Deloitte, UK

A way forward for participating or discretionary benefits


Toward Fair Values?

Stefan Engeländer
Senior Manager, KPMG, Germany

Sam Gutterman
Chairman, IAA Insurance Accounting Committee
Consulting Actuary, PricewaterhouseCoopers, USA

Final remarks and conclusions

Luis Huerta, Past President of the International Actuarial Association